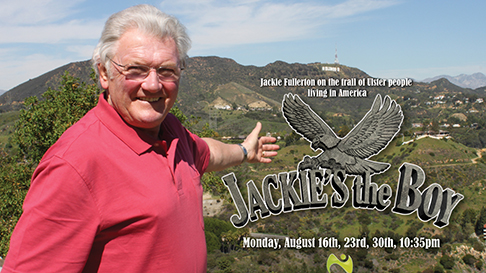 Jackie's The Boy
It took me a while to convince BBC to commission this series, and thankfully it was a big hit with the audience. Jackie Fullerton was the perfect front man to meet Northern Ireland people who'd 'made it' in America.
Episode 1
Episode One features my late friend Ian Brick. A millionaire
living in Nashville's most exclusive suburb, he made his fortune in pharmaceuticals, and was sufficiently well-heeled to retire in his forties. So great was his success that he was able to give his old university, Queen's, a million dollars to refurbish the Students' Union where he had been president back in the 1960's. It also features a cameo appearance from a youthful Gareth Dunlop, who'd just won the Belfast Nashville Songwriters Award. Original music by David Ballantine.
Episode 2
Episode Two is the story of Susan McConnell from County Tyrone. She lives with her husband, Lars and twin sons in the hills above Pasadena just a short drive from the airstrip where they keep their 'plane. Also in this episode is artist, actress and movie producer Claire Falconer from Fermanagh. She lives in a fabulous building which was once the home of film stars Douglas Fairbanks and Mary Pickford.
Episode 3
In Episode Three Jackie catches up with World Champion boxer Wayne McCullough, meets Thin Lizzy and Black Star Riders frontman, Ricky Warwick, hangs out with Michael Flatley, and has a spin on a Harley Davidson with former Lisburn man Frank O'Dwyer.