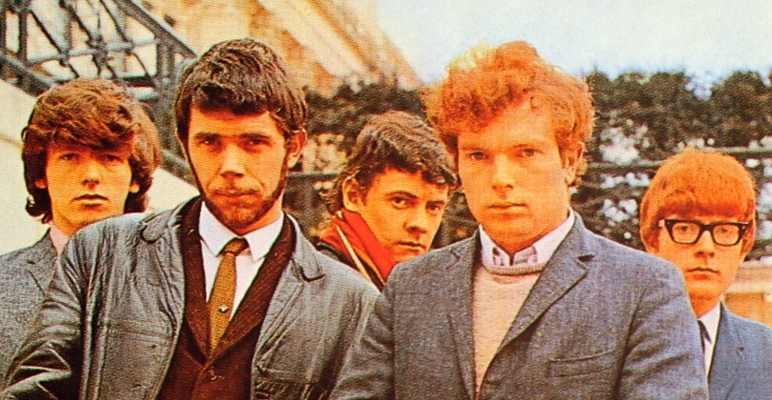 Working on a documentary about Van Morrison a couple of years ago, in a piece of archive film I heard someone say, '…and the doors opened for Them when they went to LA in 1966."
At least, that's what I thought he said. Meaning metaphorically the doors opened, and launched the Belfast band in the United States.
But then I realised I had misunderstood. What this guy was saying was that the actual band The Doors played support to Them, opening their week-long series of shows at Whiskey A Gogo.
The gigs are memorialised in a great poster of the time by artist Dennis Loren. (www.allposters.co.uk.)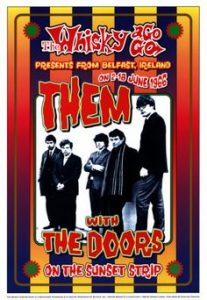 I was surprised, to say the least. That the legendary Doors had been the opening act for this ragtag bunch of impoverished kids from Belfast, who had formed Themin 1964, had two surprise UK hits in 1965 with Gloria and Baby Please Don't Go, and had even made it into the US top 40.
It would all fall apart within months of those LA gigs, but that breakup would launch the solo career of Van Morrison.
In its short life the band had a series of line-ups. And my friend John Wilson is generally agreed to have been their finest drummer. He's also famous for his time in Taste with Rory Gallagher. I believe he was once rated in a music press poll as the number one rock drummer in the world.
And it was seeing John play at a small gig in Belfast last week with some of the other original members of Them, and talking about those heady days, that brought a lot of memories of the period flooding back. But more of John shortly.
Last week was also the week when I discovered that the network of blood vessels in my (and your) body, totals 60,000 miles. Maybe you all know that but it was news to me and I found it staggering. It stopped me in my tracks, and made me contemplate the complexities of who I am and how my body works.
I was reminded of a Bible verse from my childhood gospel hall upbringing. In Psalm 139 it says, "I will praise thee; for I am fearfully and wonderfully made: marvellous are thy works; and that my soul knoweth right well." (And of course in those gospel halls it had to be the King James version of the Bible!)
Now whether you have a faith in God or not, it's hard to deny the fact that we are incredibly, wonderfully made. And yes, that has encouraged me to think a little more about my body, about what it needs and how to look after it a bit better.
The process of making That Vitamin Movie was the start of my journey into nutrition, and now Trevor and I are on the road again for not one but two further documentaries. I'm not giving any detail away yet, but they'll both be intriguing and I know I'll be learning a lot more as my journey continues.
Many of you reading this will be a much further down the road than I am in understanding nutrition. And I encourage you to encourage others who may not yet have taken the first step.
My first message to those enquiring where to start is what Joe Mercola said to me when I asked him about starting the journey: "First of all cut as much sugar as possible out of your diet. Then, drink pure water. Get moving, take any kind of exercise you can. And work towards a plant-based diet with organic and whole foods, cutting out as much processed food as possible."
My goodness if we all took even those steps how much better off would we be?
Another interesting thing happened last week. It was a news story that came and passed and is probably now forgotten by many people who heard it or read it. The British Medical Journal, no less, published the findings of a detailed study across Europe of seven million people taking a range of commonly prescribed painkillers such as Ibuprofen.
The results showed Ibuprofen raises the risk of heart failure by 20%, but some of the others double the risk, particularly in older people. My own father-in-law died from heart failure and guess what? He'd been prescribed regular Ibuprofen over many years.
Can you imagine if such a detailed and extensive study showed that Vitamin C, for example, was doubling heart failure, or even increasing the risk by 20%? It would be shouted from the rooftops and the entire world of vitamins and supplements would be lambasted as fraudulent and dangerous!
Now, I AM working my way back to drummer John Wilson, but first another news story which has caused much hilarity in Northern Ireland – the British National Statistics Bureau report showing that this little patch of earth is the happiest place in the United Kingdom.
Now, the interesting thing for me is how to square that with statistics showing we also have the highest anti-depressant prescription rate in Europe and one of the highest suicide rates.
The happiest part of Northern Ireland is apparently East Antrim, the area including the town of Carrickfergus. The happiest country in Europe is Denmark with a score of 7.7. Yet East Antrim scores 8.3.
Adrian McKinty is a crime-writer who comes from Carrickfergus. And today he gave his views as to why the area scores so highly. You can find his full comments here: http://adrianmckinty.blogspot.co.uk/.
But he starts off explaining why Carrickfergus is the most contented place on earth with this: "The strong sense of community. Go shopping with my sisters or my mum and you'll be there all day. They know everybody and everybody knows them. When I lived on Coronation Road I knew every single person on the street and could have dinner at anybody's house and any of those kids could have dinner at my house.
"Everyone plays an instrument. They just do. Its part of the culture. And when you've got the blues you can play the blues and that helps. Kids in school are forced to memorise poetry. That helps too when you're feeling depressed. Trust me.
"Sense of humour? The worst thing you can say of someone from Norn Irn is that "they have no sense of humour". That I'm afraid is a deal breaker for potential boyfriends, girlfriends or spouses. Pretty much everything else can be tolerated but if you're humourless you are toast. Trust someone who has lived in 14 different cities in 4 continents – Belfast people have the driest, dourest, blackest sense of humour on Earth. That's what EVERY single Troubles movie has gotten wrong. The shocking sentimental bullshit music and the lack of jokes."
Now there's a lot of truth in all of that. I had similar experiences growing up. People here do seem more connected to each other, many people don't move too far from home so they continue to see friends they've known all their lives. Statistics show family bonds here tend to be closer than elsewhere.
And so finally back to sitting at John Wilson's gig last week, where I was witnessing how in a very important way John was connected to the other members of Them and connected to a very appreciative audience. Because there's something special about that sixties period in Northern Ireland before the Troubles started, when the legendary Them were first strutting their stuff, that draws all of us of a certain age into closer bonds than exist with most other people at other times and with other bands and life events.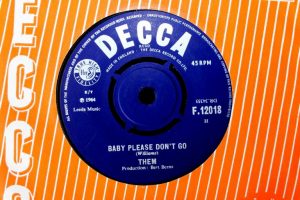 It's hard to explain but it's almost tangible. We feel a great closeness to and affection for our musicians. And John Wilson is an absolutely stunning drummer.
But over the past couple of years, we thought we were losing John for good. The throat cancer was bad enough. He got over the surgery and the 33 days of chemo and radiotherapy. But then an aneurysm in his throat, he says, was even worse than the cancer.
He faced a series of operations over 18 months, and his family were called to the hospital several times to 'say goodbye'. But he survived. Left with most of his throat muscles gone, speechless, unable to swallow and facing the prospect of never playing music again.
Yet there he was last week, a lot more frail certainly, but incredibly demonstrating all the enthusiasm, passion and fire for which he's known.
John said the greatest thing that carried him through the hard times was his connection to his family and other musicians. "They all rallied round. They were all rooting for me. They were wonderful."
They didn't give up. We, the friends and fans, didn't give up.
Trevor and I enjoyed time this week with Patrick Holford, a great friend who's a leading figure in nutrition, author of 36 books, and founder of the Institute for Optimum Nutrition. You can find him at patrickholford.com
And interestingly, in the week that I've been thinking about connections, Patrick was in Belfast to launch his new book, The Chemistry of Connection. After 35 years studying the best ways for all of us to be happy and healthy, he has figured out five key connections we all need.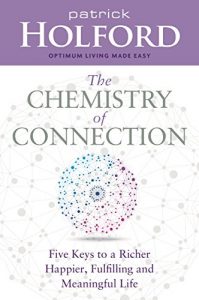 I thoroughly recommend the book and you can even read the opening section on his website. But three of his connections have particularly hit me as I thought about writing this blog.
One, where we come back again to John Wilson and the strength of his bonds, is the social connection…the connection with family, friends, your social group, your church, whatever it may be in your life, reaching out and connecting with them and they with you.
The second one is the journey most of us are on, our connection with our own body, respecting it and nurturing it with good nutrition and respecting and protecting the earth.
Thirdly there's the spiritual connection. Without this, says Patrick, we're not complete. Impoverished.
And I've been witnessing another 'miracle' in recent days, for another friend who's been at death's door, Iris Mearns in North Carolina, the wife of Robert Mearns, a pastor originally from Belfast, and mother of Grace and Alan.
Iris had a major heart attack on September 22nd. It looked like she would not pull through. But again, her spiritual connections came to the rescue. Firstly her own faith. But rarely have I been aware of so many people praying for a miracle, some even travelling to North Carolina to support her family. You can see how things have gone on the IrisMearns Information Group on Facebook. (One of Facebooks's more positive attributes is the ability to connect like this.)
Now whether you try to dismiss it because you don't believe in 'miracles', whether or not you have faith in connections, God, or as Patrick Holford says, the all-pervasive benevolent intelligence, all I can tell you is that I sit back and watch, I see the most unexpected things happen, and I'm thankful for them every day.
I wish you comfort, support and encouragement on your journey…and great connections!