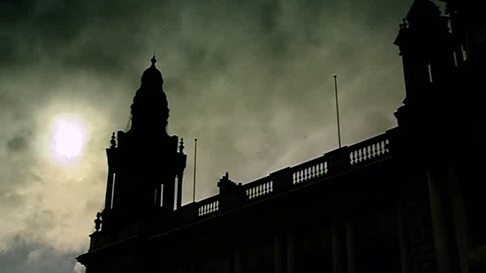 A Tale of Two Cities…
Sir Kenneth Branagh narrates the films, but watch out for another famous 'Sir' – former Chief Constable Ronnie Flanagan tells us of a police mutiny at the time and his own family's part in the events.
Episode 1 The Great Hall
At the end of 19th century, Belfast was a commercial giant and the fastest-growing city in the British empire. Shipbuilding, tobacco, linen, and rope-making laid the financial foundations for Belfast's 'golden age'.  Industry leaders like Harland, Gallagher and Pirrie ruled supreme. They ran the city as their own, and the creation of a civic centre to match their newfound greatness became paramount. In its polished Italian marble and its perfect Portland stone they created an idealised image of themselves. The final cost was almost triple the original estimate.  It was mocked as 'a wedding cake at a pauper's funeral', its splendour failing to mask the appalling conditions in the 'other' Belfast – poverty, dire sanitation, disease, the lowest paid workers in Britain and the highest infant mortality rate.
Episode 2. City in Revolt
We remember events that most histories of Belfast have forgotten – a time when Protestants and Catholics stood shoulder to shoulder, in a battle between rich and poor which brought the industrial city to its knees. The Belfast Dock Strike of 1907, and the Royal Irish Constabulary mutiny which it inspired, struck fear to the heart of the British establishment. They rushed over five thousand troops to Belfast – the cavalry were encamped in Ormeau Park. There were nine battle ships from the Atlantic fleet moored at Bangor and newspapers predicted events akin to the Russian revolution. It was a brief period when the sectarian bitterness for which the city was renowned, melted away. And remarkably, Hotshot Films uncovered a secret cache of images by photographer Alexander Hogg, documenting these events as they unfolded.