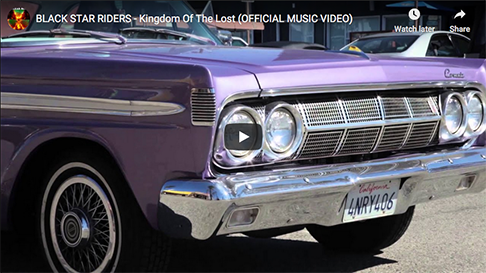 Kingdom of the Lost
Sam Robinson, a former RUC officer I met filming Stress and Disorder, has become a great friend. When I told him I was making Jackie's The Boy, taking Jackie Fullerton to America in search of Northern Ireland people who'd 'made it', he said, "Sure you'll have to go and see my brother from a different mother, Ricky Warwick!"
Like Sam, Ricky's a die-hard Glentoran fan, who even flies in from his home on LA to see them play. He's also a tattooed rocker, front man of Thin Lizzy and Black Star Riders and originally from Newtownards. So I arranged to meet Ricky in LA, he appeared in the series, and we too have become friends. So much so that he asked me to film this music video for Black Star Riders.
I've had the good fortune to make quite few road trips in America. I love nothing more. So doing the video in the form of a road trip seemed like a great idea. And a potential adventure for Sam, Sai Kelly, Ricky and me. Of course we had to have a Mustang convertible.
I was keen to end the journey in one of my favourite places in the US and excited to introduce them all to it. So we started filming in Los Angeles, as we travelled up the Pacific Coast highway to San Francisco, then south to the desert and Palm Springs and on towards the border with Mexico and journey's end…Slab City and Salvation Mountain.
At the time Ricky's manager asked me to sum up what we were up to. He's my reply:
Kingdom of the Lost is a dream song to work with. Not only does it have an incredibly memorable chorus, but it also has a second great 'hook' in the guitar solos. And it's just as exciting lyrically. Superficially it might be about an Irish emigre in America, missing home. But there are other layers and depths to it.
It's really a timeless story of any immigrant in any country at any stage in history. I asked Ricky to sum up the theme and mood of the song in a single word. He said 'alienation'. So many of the images I've chosen reflect that. I've tried to reveal both the American dream and the American nightmare, as the mysterious driver of the Mustang convertible hits the road from LA up the Pacific Coast Highway to San Francisco and back again.
The video's designed to reward repeated viewing. The images move so quickly it's difficult to catch everything first time around. Some see it as a journey towards redemption. But one of things that excites me most is how people bring their own interpretation to the song and to the images.
I'm delighted the guys in the band have also included their personal tribute to some of those who have influenced their music, people who were often outsiders and who felt isolated. And we also credit a number of authors who wrote about alienation – including some of those known as the 'lost generation', a very appropriate fusion with this song.
You can find Ricky at rickywarwick.com. I also had the pleasure of playing some harmonica on Tank McCullough Saturdays, a song about a famous Glentoran player, on his solo album Hearts and Trees, all the songs written by Ricky and Sam. https://www.youtube.com/watch?v=lEdVDy0YWvs
The 'Quare' Boys